ONE LIFE (Only You #2)
by A.J. Pine
BLURB:
In the latest from the author of One Night, tragedy causes a young woman to struggle to keep her head above water, and the only one who can help her is the guy who's been in the friend zone for the past year . . .
Every time life throws Zoe Adler a curve ball, she changes her appearance. Freshmen year—after almost following in her mother's alcoholic footsteps—she said good-bye to her blonde, girl-next-door image and opted for jet black hair and piercings galore. After her brother Wyatt's death, she escapes to the city to teach a summer art program for kids. Her black hair goes blue, and she finds solace in the arms of a longtime friend, in his heart, and in his bed—but her guilt makes her unable to accept the love he wants to give.
Spock might be the guy to save Zoe. But when she learns the truth about his past, the edge she's teetered on since losing Wyatt drops out from under her. The girl who kept it together for everyone finally falls apart. Now Zoe must choose between drowning in guilt about Wyatt or asking for help. But even if she gets the help she needs, Spock may not be waiting for her when she's ready to let love in.
*ARC received in exchange for an honest review*
This Book Nerd Says:
I have come to know and respect this series for being one of the most real and raw New Adult Contemporary series I've come across. Having met Zoe and Spock in the book ONE NIGHT, I was both curious and excited to see them get some of their own shine.
The story is told in Zoe's voice which was such a delight. She is so intrinsically beautifully flawed and it makes her character much more real. On the surface she is so strong but underneath that lies a lot of inner conflict. Because of this it takes a special person to see and try to peel back the layers she uses as a protective buffer.
Insert Spock.
I adore him. Spock easily crosses the line from friend to more. As he draws closer to Zoe, his concern for Zoe becomes much clearer and for good reason. It's only throughout the last chunk of the book that we get to know the real Zack (Spock).
If you are familiar with the series then you might anticipate the tone of this book, but if you're a new reader I'm going to do a little prep work for you.
ONE LIFE deals with some serious issues (depression, grief, addiction) but I love that while these issues weren't 'watered down' they were approached from a different angle than one might naturally assume. It gives us a fresh outlook on something so real but often overlooked.
The love story that was beginning to build in the previous book completely stands on its own in ONE LIFE. So while giving us peeks at characters we've come to know this book gives us a fresh new story complete with a couple of new faces to make us smile.
The story is much more than Zoe and Spock... it's Zoe's story and for that alone, there's reason to read it.
I am giving ONE LIFE...

4 Stars

!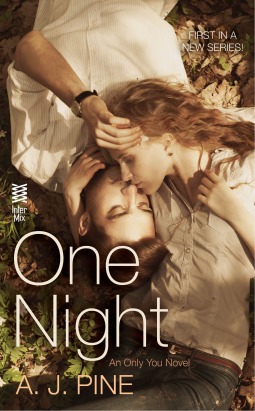 About the Author:
AJ Pine writes stories to break readers' hearts, but don't worry—she'll mend them with a happily ever after. As an English teacher and a librarian, AJ has always surrounded herself with books. All her favorites have one big commonality–romance. Naturally, her books have the same. When she's not writing, she's of course reading. Then there's online shopping (everything from groceries to shoes) and a tiny bit of TV where she nourishes her undying love of vampires and superheroes. And in the midst of all of this, you'll also find her hanging with her family in the Chicago 'burbs.
Twitter:
https://twitter.com/AJ_Pine
Facebook:
https://www.facebook.com/ajpineauthor
Pinterest:
https://www.pinterest.com/ajpine/