ONE LIFE (Only You #2) by A.J. Pine
In the latest from the author of One Night, tragedy causes a young woman to struggle to keep her head above water, and the only one who can help her is the guy who's been in the friend zone for the past year . . .
Every time life throws Zoe Adler a curve ball, she changes her appearance. Freshmen year—after almost following in her mother's alcoholic footsteps—she said good-bye to her blonde, girl-next-door image and opted for jet black hair and piercings galore. After her brother Wyatt's death, she escapes to the city to teach a summer art program for kids. Her black hair goes blue, and she finds solace in the arms of a longtime friend, in his heart, and in his bed—but her guilt makes her unable to accept the love he wants to give.
Spock might be the guy to save Zoe. But when she learns the truth about his past, the edge she's teetered on since losing Wyatt drops out from under her. The girl who kept it together for everyone finally falls apart. Now Zoe must choose between drowning in guilt about Wyatt or asking for help. But even if she gets the help she needs, Spock may not be waiting for her when she's ready to let love in.
Heartbreaking
-Zoe loses her brother and blames herself.
Important
—Zoe's story deals with addiction and depression and the importance of seeking and accepting help for what she cannot do on her own.
Sexy
—Zoe and Spock spent book one (
One Night
) as just friends, but there was always sexual tension. Now they get to act on that tension, and Zoe is not by any means shy.
Funny
—The book may deal with heavy subject matter, which is why I always like to add comic relief.
Hopeful
—This is a romance, so you're guaranteed an eventual
happily ever after
, but it's also a book that deals with mental illness, which is much more than just the love story. I think there's hope for both Zoe on her own and Zoe and Spock's future
.
One Life
, the Story Behind the Story
This book reads as a stand alone, but we are introduced to Zoe and Spock in

One Night.

So, if you want to see what Zoe was like before the tragedy that rocks her world,

One Night

gives you a sneak peek of that.

In this book, Zoe's addiction manifests in the form of body modification. She prefers the pain of the tattoo needle to the emotional pain she's trying to cover up inside. I got the idea for this because I'm a big fan of body art. I get a new tattoo for each book I publish. I've heard people say that just getting tattoos, in general, can be sort of addicting. So I decided to get more literal with that and thought,

What if someone truly was addicted to the sensation of getting inked. What would that look like?

And I built Zoe's story from there.

One Life

takes place in one of my favorite areas of the city of Chicago, Lincoln Square, which has a great indie bookshop, The Book Cellar.

In

One Night

, Zoe was the cool roommate I kind of wanted to be. In

One Life

, Zoe's roommate Delores (a tattoo artist who looks like a pin-up girl and has full tattoo sleeves) was that girl for me. I always have lots of fun with side characters and always love when I get to write their full stories. Zoe got to be both.

I love superheroes, especially the Avengers. Zoe

might

have some concealed piercings that give this away. Keep a lookout for Captain American and Thor. I, however, only have piercings in my ears.

If you don't get the Captain Hammer joke (pertaining to Spock's Halloween costume), then your homework is to watch Dr. Horrible's Sing-Along Blog. Trust me. You won't be disappointed.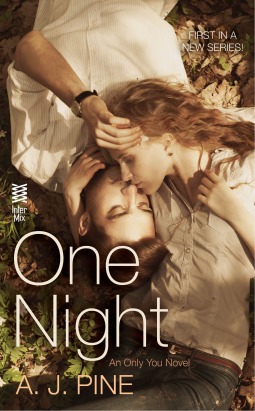 Purchase One Night
About A.J. Pine
AJ Pine writes stories to break readers' hearts, but don't worry—she'll mend them with a happily ever after. As an English teacher and a librarian, AJ has always surrounded herself with books. All her favorites have one big commonality–romance. Naturally, her books have the same. When she's not writing, she's of course reading. Then there's online shopping (everything from groceries to shoes) and a tiny bit of TV where she nourishes her undying love of vampires and superheroes. And in the midst of all of this, you'll also find her hanging with her family in the Chicago 'burbs.
Website: http://ajpine.com/
Twitter:
https://twitter.com/AJ_Pine
Facebook:
https://www.facebook.com/ajpineauthor
Pinterest:
https://www.pinterest.com/ajpine/